We have a selected program of HIFI speakers and most of them are available as finished loudspeakers and as KITS.

We focus on quality loudspeakers for HIFI, Home Cinema , Multimedia and similar applications.
We also offer high quality monitors for studios and home-studios and we offer drive units for the DIY.

We are using Audax drive units mostly and we are evaluating other high quality drive units.
---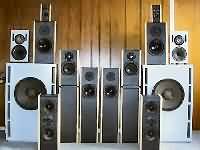 Speakers in the picture;
AUDAX PRO 38-200 (grey top + sub),
A652 (in the front),
MM08 at the top,
KM834 (below MM08),
A651 (next to PRO38-200),
A650 (subwoofer below A651), TOULOUSE (in the middle)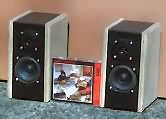 MM08 micro HIFI/PC speaker
MM08 is indeed a very tiny loudspeaker but as many others you will be surprised when you hear it, there is nothing tiny about the sound.Originally they were deceloped as a HIFI PC loudspeaker as we were puzzled to see so many (even pros) working with PC and sound/music using cheap low quality plastic speakers.MM08 is also used as real HIFI loudspeakers, best in smaller rooms naturally.
You can find more information, prices etc here;

KLS series KITS.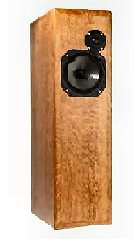 KLS9 2-way floorstander
KLS series KITS have been developed by HIFI WORLD (UK magazine) and they are based on Audax drive units.

The loudspeakers are well designed and have been tested as finished loudspeaker products. They offer high quality and are often compared with loudspeakers costing a great deal more.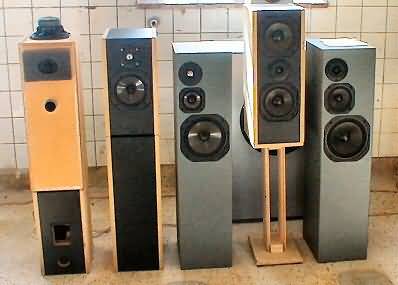 Loudspeakers in the picture:
KM651R3* (2-ways semi-omnidirectional)
A651 (Vance Dickasson design) KM841* (3 way floorstander)
A652 (Vance Dickasson design)
KLS3* (HIFI World design)
Loudspeakers with an * are in provisional cabinets, like the others they can be delivered in black/birch or spray painted to order, they can be delivered as KITS too of course.

KM 651R3 is a semi omnidirectional loudspeaker giving a very deep soundstage and very good imaging.Sound quality is very good (of course) and the concept has several interesting ideas, any distortion from the bass unit is absorbed in the cabinet (being higher order harmonics) and the crossover blending of the 2 drivers are very seamless and gives a unique and very full sound quality.


HMC & HMZ seies are designed by Audax , A651 & A652 are designed by Vance Dickasson (Loudspeaker Design Cookbook).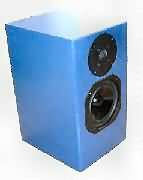 Audax Cannes
The new home-cinema series has been designed by Joe D'Appolito and the Cannes, Paris, Toulouse etc. are designed by R.Krönke (Audax-Germany) , and lastly some systems have been designed by us.
KM 841 is developed further from KLS3 (a HIFI World design) with a high-end tweeter and a completely new crossover.
It is a very good quality 3-way loudspeaker with solid bass using the 210mm HDA bass driver, very detailed midrange using the 100mm HDA mid driver and sparkling high frequency reproduction using the TW025A8 high-end titanium driver.
Digiamp 800 digital power amplifier
We use a highly modified Toshiba DVD player as CD player (giving a sound quality comparable with the very best high-end CD players) and our new Digiamp 800 (2x400w digital power amplifier), visitors have described this set as giving true high-end sound quality at a very attractive price.
We ship Loudspeakers , KITS and drive units all over Europe and overseas , feel free to contact us for more information , quotes etc.

See rates here ; Shipping