DB 510 Bass Combo Amplifier
Designed and built for pro bassplayers.
Latest technology , best components.
High durability , very high power , low weight. Built to serve you for many years.
Weighing only 9 kgs , 35 x 38 x 30cm ( 13" x 15" x 12" in size ) and with a 500W rms power rating this bass combo is without any serious competition.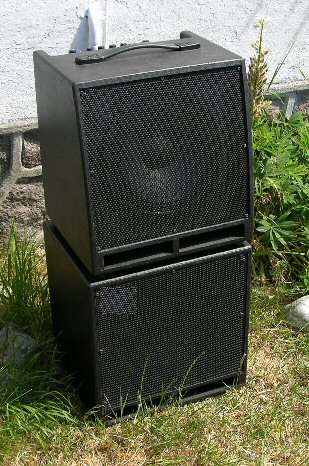 DB510 combo & BC110 cabinet
DB510-amplification design philosophy:
Low weight and sturdy design.
Easy operation , yet flexible.
Small size and high power and acoustic output.
"Classic" preamp:
J-fet technology. Short signal path.
Hi and lo gain inputs , high gain very good for piezo transducers. Input gain and mute. Hi and lo cut filters.
4 band equalizer. Phase reverse.
Master volume. Balanced XLR line output, working with pre/post eq switch, gain and high- and low-cut. Ubalanced lineout jack. Insert point send – retur jack. Tuner output.
Hi tech poweramp:
Powerfull switch-mode power supply for 115/230 volt ac. Speakon og jack speaker outputs. 500 class D watts r.m.s. in 4 ohms.
Hi tech cabinet:
10 inch SICA 250/500W neodymium driver. Lightweight cabinet well braced.. Metal front grill.
We have combined these elements into a small robust powerhouse, small enough to carry and use everywhere and versatile enough to fit perfect into every bass players work and loud enough to be used with drums, in big-bands etc (at lower levels this power reserve still gives you plenty of headroom and control, unlike other small bass combos ;)
If you need more output still you connect the extension cabinet and the 500w amplifier will drive this with ease and control, giving more fundamental bass and acoustic output.
At present we have a 10" extension speaker, other can of course be used, we will launch a few more soon.

From acoustic folk, jazz to rock music its the perfect choice.
We have focused on keeping things simple but right so you can focus on the music.
We did not fill the amplifier with built-in effects, compressors and pre-shape filters (not to mention modelling etc etc).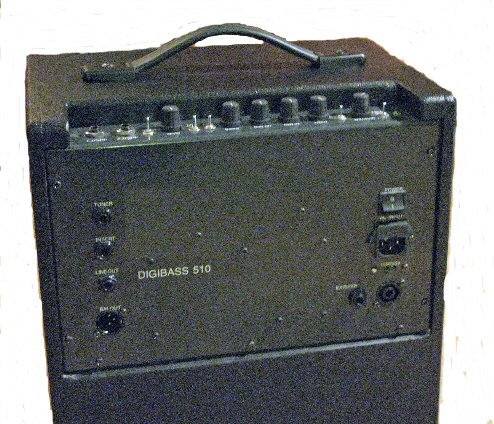 Specifications:
Size: 35 x 38 x 30(25) cm (13 x 15 x 12").
Weight: 9 kgs
Cabinet: 12mm. birch ply. Special bracing.
Special coating.
Output power: 500 watts 4 ohms-
250 watts 8 ohms RMS.
Speaker: 10 inch neodymium
Hi input: 2 megaohms
Lo input: 100 kiloohms
Lo cut: 75 Hz 6 db. oct.
Hi cut: 6000 Hz 6 db. oct.
Bass: 50 Hz +/- 20 db. shelf.
Lo mid: 200 Hz +/- 20 db. lo-Q
Hi mid: 800 Hz +/- 15 db. lo-Q
Treble: 4000 Hz +/- 20 db. shelf.
Insert point: 0,775 volt send/return.
Balanced/unbalanced line out:
level 0db, to + 4 db, hi – lo cut,
pre/post equalizer.
Tuner out: 0,775 volt.
Ext. speaker : Speakon and standard jack i parallel. Minimum impedance 8 ohms.
AC input: 115/230 volts.
DB510 MkII 500W combo,
1x10" neodym, 500W rms 9 kgs € 720 (ex VAT)
Also available:
DB310 300W combo same amplifier with 300W digital power amp, € 640 (ex VAT)
BC110-250 1x10" ext cabinet,
1x10" ,8 ohms, 7 kgs € 287 (ex VAT)
Flightcase for DB510/
BC110-250 € 172 (ex VAT)
Dealer enquiries are welcome.